Another Mars rover is on its way to the red planet after launching this morning from Cape Canaveral aboard a United Launch Alliance Atlas V rocket. One of the highlights of my time covering space for Florida Today was visiting one of the first Mars rovers during its processing at the Cape and going to the Jet Propulsion Lab in California to cover the excitement of Spirit's landing on Mars. I love these science missions … relatively low cost compared with human missions, and the rewards are manifold. I wish Perseverance well on its journey.
I shot these launch photos from the edge of the Indian River Lagoon in Rockledge, Florida. It was a hazy morning, but Florida always offers fresh ways to look at each launch.
I chased lightning storms tonight as they made their way into Brevard County, Florida. Farther west, the storms had earned severe warnings and even a tornado warning.
I headed to the St. Johns River first, seeing a beautiful lightning-illuminated shelf cloud on the way. The shelf had eased over my position by the time I stopped and got a few photos of the lightning as the wind rushed through the tall grasses and palms. It started to rain before better photo opportunities presented themselves, so I headed east and parked in a few locations in Viera to snap the rest of the photos here.
The culmination of the evening was a gorgeous lightning crawler that filled the sky. And let's not even talk about the bolts I missed!  (There are always bolts I miss.) All in all, it was fun to nab some good lightning. It's been way too long.
Click on the thumbnails to see a slide show of the larger versions.
As much as I love sleep, I always make an effort to get out and shoot pre-dawn rocket launches. If you're lucky, you'll get amazing light effects. I saw those this morning, but from my vantage point on the edge of the Indian River Lagoon, the show was partially obscured by clouds. Still, it was pretty.
This was a SpaceX Falcon 9 rocket with Starlink and SkySat satellites. I shot the streak shot with my Nikon D500, along with the shot showing the booster heading for the drone ship and the rocket continuing its journey. The video is an edited GoPro "nightlapse" that shows the light "jellyfish" blossoming behind the clouds.
Human spaceflight is back in the United States.  Since 2011 and the retirement of the space shuttles, Americans have been flying to space aboard Russian Soyuz rockets. But today, SpaceX launched a Falcon 9 rocket for NASA with the Crew Dragon capsule in a two-man test mission to the International Space Station.
I was happy to see the launch … though I wasn't ambitious in terms of where I photographed it. Here on Florida's Space Coast, we had massive crowds during a scrubbed attempt earlier this week, and during this plague, I preferred not to tangle with them. But the view was still good from my neighborhood along the Indian River Lagoon, where many people showed up just in time for lift-off.
My emotions are pretty strong when it comes to human spaceflight. I was at the landing strip at Kennedy Space Center when Columbia failed to make it home and worked long hours covering the aftermath and mourning the crew. Later that year, I went to Russia and Kazakhstan for Florida Today to cover Americans' first full crew exchange via Soyuz, when the returning crew was briefly "lost" when it went off course in a ballistic landing. When they were found, I called back to my editor from Moscow's mission control and could barely get out the words "They're OK." I'm well aware of the risk and deeply respect the astronauts who are willing to step up and face it for missions like these.
That said, I also believe strongly in uncrewed science missions, and I wish our country's priorities included more funding to explore our solar system and beyond. The benefits are not just esoteric. What we learn goes to the heart of our own survival. Although there doesn't seem to be much consideration of our future or our planet's future these days.
This is a day to celebrate. And to remember that science helped get us here … and can help us go forward, too.
As I'm not chasing in the Plains this year because of the COVID-19 plague, I'm trying to grab a chase here and there near my home in eastern Florida. This wasn't a great night for lightning, but I caught a couple of bolts on May 26, 2020, in Viera, Florida. I'll take what I can get in this very difficult year.
N.B.: Backdated so it makes sense in the chase report. 
I'm back-dating this post, as I didn't have a chance to post the photos before now. And also, somehow, I hoped maybe I'd get to chase in Tornado Alley this season. Given the ongoing pandemic and the possibility of either getting and spreading COVID-19 or increasing the burden on some small town's health system if I did get it when I was on the road, it seemed like the responsible thing to do to not head to the Plains. Turns out, except for a couple of pretty photo opportunities, I don't feel like I've missed all that much, storm-wise. What I have missed is that sense of freedom while following the weather around a gorgeous landscape, late-night diner meals, and seeing my friends who share the same passion for weather as I do.  I really hope the world is looking better in 2021.
All that said, on April 20, there were tornadoes in Central Florida. I did a local chase, heading to Mims, and caught a rotating storm with a decent wall cloud as it crossed U.S. 1.  No tornado, but it was pretty nice.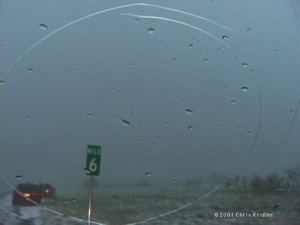 Back in 2001, when I'd been chasing storms for just a few years, Dave Lewison and I met up with Scott Blair and Jason Politte on May 30 and headed into northeast New Mexico in pursuit of supercells. We found one that formed on the high plains. There were cold temperatures aloft and the perfect ingredients for rock-hard hail. We knew the storm was producing this hail – we could see it, falling from the cloud like a white waterfall – and we were determined to get ahead of it.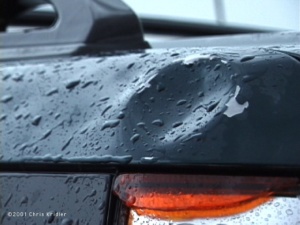 Even now, chasers get caught by hail. Hell, some chasers rush into it. But back in the days of no in-car radar data, when we'd "go visual" to figure out where to be in relation to the storm, it was even easier to screw up. And boy, did we screw up. We got on I-40 and were caught by the storm just inside the Texas Panhandle, with no exits or shelter in sight. Our cars were bombed by sideways-blowing hail for about ten minutes, including stones up to baseball size. To this day, I avoid chasing storms on Interstates because of this experience.
I've posted a new edit of the video from this day. Be warned: THERE IS CURSING. This was also way before everyone was shooting in high-def. And listening to my angst makes me cringe a bit. But because of this experience, I kept my cool when I got into an even worse hailstorm on May 12, 2005. You might say I've become a bit hail-avoidant since then.