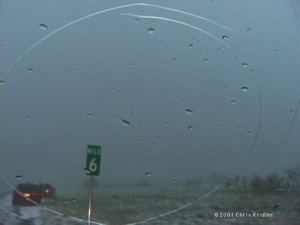 Back in 2001, when I'd been chasing storms for just a few years, Dave Lewison and I met up with Scott Blair and Jason Politte on May 30 and headed into northeast New Mexico in pursuit of supercells. We found one that formed on the high plains. There were cold temperatures aloft and the perfect ingredients for rock-hard hail. We knew the storm was producing this hail – we could see it, falling from the cloud like a white waterfall – and we were determined to get ahead of it.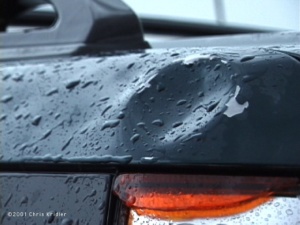 Even now, chasers get caught by hail. Hell, some chasers rush into it. But back in the days of no in-car radar data, when we'd "go visual" to figure out where to be in relation to the storm, it was even easier to screw up. And boy, did we screw up. We got on I-40 and were caught by the storm just inside the Texas Panhandle, with no exits or shelter in sight. Our cars were bombed by sideways-blowing hail for about ten minutes, including stones up to baseball size. To this day, I avoid chasing storms on Interstates because of this experience.
I've posted a new edit of the video from this day. Be warned: THERE IS CURSING. This was also way before everyone was shooting in high-def. And listening to my angst makes me cringe a bit. But because of this experience, I kept my cool when I got into an even worse hailstorm on May 12, 2005. You might say I've become a bit hail-avoidant since then.
I had a strong case of sleep deprivation for a couple of days last week thanks to getting up in the wee hours to get out to the beach at Cape Canaveral for a rocket launch. Rocket launches are a bonus of living on the Space Coast of Florida, and the pre-dawn launches have the potential to be especially spectacular. This Atlas 5 launch on August 8 by United Launch Alliance lived up to its promise!
Note the "sparkles" in the detail shot of the end of the plume. Those are the rocket boosters tumbling back to Earth after separation.
I recently had the chance to visit the beautifully restored TWA terminal at JFK airport when I went to New York for the Romance Writers of America convention. Now the terminal is the TWA Hotel and a great place to stop in the 1960s for a cocktail on your way to somewhere else.
Originally designed by architect Eero Saarinen, the retired terminal is pure art, with graceful lines, gorgeous views everywhere, and not a square corner to be seen. Click on the thumbnails to see bigger images or go through the whole gallery.

A severe storm blew through Florida's Space Coast on June 19, 2019. I awaited it at Port Canaveral and shot it coming in over Exploration Tower. Then I watched it make conditions gnarly for boats in the port. It wasn't a great day for boating, to say the least. I've never seen waves like that on the water there.
I do my best each spring to try to capture the magic that is night-blooming cereus. This cactus vine produces flowers that each bloom for just one night. The plant comes in various forms; the one climbing up our deck and a palm tree looks kind of like a snake the rest of the year.
Honeybees retire in the evening, so I'm not a hundred percent sure if those were the bees so excited about the pollen in the bloom I captured on video. The flower begins to open right at sunset, so there was still some light in the sky. I'd never seen anything like it in my time-lapses from previous years, and it was really amazing! Once it got dark, the bees went home, and the flower finished opening, still covered with ants and other insects.
May 18 was one of those chase days that was pleasantly low-pressure. Alethea Kontis and I chased with old friends, and we didn't find any tornadoes, just beautiful storms from Alva to Enid, Oklahoma, culminating in amazing sunset colors in the turbulent clouds.
The time-lapse video is hypnotic, and I was delighted with the photo opportunities on the beautiful farm road where we wrapped up the chase as golds, oranges and blues roiled through the clouds.
Today was the first real chase day for Alethea Kontis and me in 2019. We'd driven out from Florida a couple of days before. It was Alethea's second year of storm chasing, and she hadn't seen a tornado yet. This day would deliver a beautiful one near McCook, Nebraska, that we saw from just south of Culbertson. At times it had a "Wizard of Oz" appearance. We met up with more chaser friends, and later that night, we saw a gorgeous lightning show from Lexington, Nebraska.
We drove about 450 miles this day – some of which was a large and frustrating circle. Pretty much par for the course on a storm chase.
Roll over the gallery images for more information about each photo, and click on a photo to see larger images.