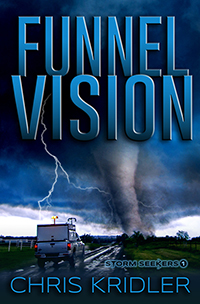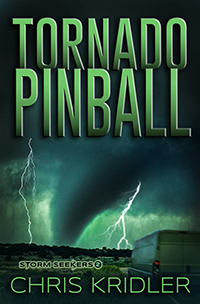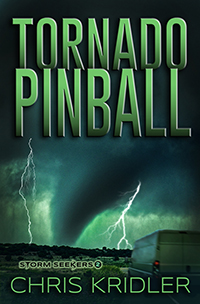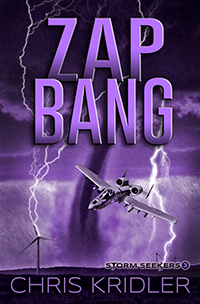 THE STORM SEEKERS SERIES: FUNNEL VISION | TORNADO PINBALL | ZAP BANG
Digital boxed set!
THE STORM SEEKERS TRILOGY BOXED SET
a digital omnibus of three complete novels
Kindle | Nook | Apple Books | Kobo | more
The first three novels in Chris Kridler's Storm Seekers Series, three complete storm-chasing adventures, are gathered into one digital set – three gripping novels full of action, drama, humor and romance. Though each book can stand alone, recurring characters and references make the boxed-set experience richly entertaining.
Included in the digital boxed set are the complete novels Funnel Vision, Tornado Pinball and Zap Bang. The books are still available as individual ebooks and paperbacks; see below for details and free samples of each book.
From a reader review: "Kridler's fast-paced books combine tornado-chase scenes, nuanced romance and sex subplots, believable, quirky characters, and superb descriptions of nature's sudden cataclysms and ever-changing sky phenomena. She writes with equally honed skill about science, technology, relationship angst or spiritual dilemma, with a deft comedic tone when it comes to the often absurd human side of things. Kridler is a keen observer of life and its rude complexities."
'The Storm Seekers Trilogy Boxed Set: 3 Complete Novels,' a digital omnibus by Chris Kridler (Storm Seekers, Books 1-3)
Publisher: Sky Diary Productions | Literature > Adventure
Kindle ISBN: 978-0-9907836-9-5 | ePub ISBN: 978-0-9907836-7-1
List price: $7.99 ebook
---
Storm Seekers Book 1: 'Funnel Vision'
FUNNEL VISION
Amazon: Kindle edition
| Paperback

Barnes & Noble: Paperback & Nook editions
Apple Books | IndieBound | Kobo
READ A FREE SAMPLE | GET FREE KINDLE APP
As tornado chasers,
their only refuge is the storm …
Kansas photographer Judy Hale loves to chase storms, but at the heart of her passion is a fear she longs to quell, born of the tornado that destroyed her childhood. Devil-may-care tornado researcher Jack Andreas wants nothing better than to forget the past in his dangerously close encounters with twisters. After meeting on a chase, Judy and Jack have dueling destinies as they cross paths with Judy's flirty sister Shannon; clueless storm-tour operator Brad Treat; geeky, likable chaser Robinson Marvell; and a bevy of other storm chasers pursuing the gorgeous, violent storms of Tornado Alley. Their stories intertwine as they chase the monster storm that forces Judy to confront her deepest fears and Jack to find the courage to face the ultimate twister. With action, humor, romance and rapturous skies, FUNNEL VISION takes you into the heart of Tornado Alley — and the hearts and minds of the adventurers who populate the nomadic, exhilarating world of storm chasing.
★ ★ ★ ★ ★ "Chris Kridler has written a book that makes every reader feel as if they are standing on the side of the road experiencing the full effect of Mother Nature." – Mary J. Gramlich, "The Reading Reviewer"
"This book … certainly packs a lot in and has something for everyone: a great leading lady, a truly dislikeable guy, the science of tornados, the thrill of storm chasing as well as romance, humour and adventure – not as lethal a combination as a real tornado but as close as most of us would like to get!" – Rachel Abbott, bestselling author of "Only the Innocent," for The Kindle Book Review
"Kridler knew she had to appeal to insiders and outsiders — to be both inclusive and exclusive enough to please die-hard storm chasers and the safety-loving laity. She pulls this off adroitly and also manages to fit the book into several genres — romance, thriller, suspense, high literature, satire, social commentary, specialist fiction, and an old fashioned, cracking good page-turner." [MORE …] – The Beachside Resident
"… the book is incredibly well written, started right out of the gate and had generally likable characters. … I loved the scenes where the author described the storms." – Naomi Blackburn, A Book and a Review
MORE REVIEWS OF 'FUNNEL VISION' …
"a fun, fast-paced book, filled with heart-thumping storm-chasing scenes"
"an exciting novel that transports the reader into the storm chasing world"
"Ms. Kridler's writing, filled with scientific precision, opens your eyes to the passion of the far horizon and the monster that may be lurking beyond it."
"a great read that combines fast-paced storm action scenes with nuanced romantic suspense"
"'Funnel Vision' serves up memorable characters in collision, but its real star is the elemental violence waiting for them all at the end of the line…"
"If you have ever imagined going storm chasing in the Great Plains, 'Funnel Vision' is a must read!"
"… this isn't just a storm chase book – it is a great adventure, with a romance woven through it. Whether you are an experienced storm chaser, an adventure fan, or a romance fan, check it out. You won't be sorry."
"This book is one I'll be rereading for years because of the cast of risk-takers and the beautifully written descriptions of middle America and the storms that terrorize the plains … Just as Judy finds her future, author and storm chaser Chris Kridler has found hers in her irrefutable skill as a writer."

Storm Seekers Book 2: 'Tornado Pinball'
TORNADO PINBALL
the sequel to Funnel Vision
Amazon: Kindle
| Paperback

Barnes & Noble: Nook & paperback editions
Also at: Apple Books | IndieBound | Kobo
When science becomes a stunt,
storm chasers reap the whirlwind …
Just when TV shows about storm chasing can't get any more extreme, along comes a production company with the ultimate exploit: the Bubble, a manned tornado probe. As the reluctant consultant, expert storm chaser Jack Andreas must get the show's nervous star, failed tour operator Brad Treat, into a twister. But Jack is losing his customary cool as a comedy of errors unfolds. Distracting him is co-star Saffire, a Hollywood actress who is more than she seems, and producer Wynda, who will do anything to make her documentary succeed. The daring star of another show pursues them, desperate for a shot with his own flying machine. As the disasters mount, will Jack be able to launch their device into a tornado?
The sequel to FUNNEL VISION, a Storm Seekers novel, TORNADO PINBALL delivers an unforgettable adventure with action, humor, romance and stunning storms.
READ A FREE SAMPLE | GET FREE KINDLE APP
READER REVIEWS OF 'TORNADO PINBALL' …
"The second book in Kridler's Storm Seekers series is a riveting adventure in the land of tornadoes and the idiosyncratic individuals who chase them for love and money. Hard-drinking and obsessive, expert chaser Jack Andreas is the core of Tornado Pinball, a complex hero and inveterate womanizer with a heart built of painful ambiguities. Kridler's diverse characters, from wannabe TV show hosts and other glory hounds to weather geeks and grad students, are portrayed with nuance and depth. Precise and lush descriptions of all-things-weather — hail storms, cloud formations, scenes of tornadic destruction — give the novel a lyrical side. And Kridler can write sizzling sex scenes."
"funny, exciting, and sexy … Kridler takes us along on the chase and introduces some really neat technology. Expect some plot 'twisters.' This is a wonderful book."
"As with the first book, Ms. Kridler really conveys the awesome sublime beauty of the storms that cross the American Plains. 'Tornado Pinball' is quite entertaining. One doesn't have to be a storm chaser to enjoy the book. The outrageous, almost satirical concept of a human tornado probe is entirely possible, and it is a commentary on what production companies will attempt for ratings. I definitely recommend 'Tornado Pinball.'"
"Chris writes about storms and stormchasers with insider knowledge, constructing characters we care about. Her sex scenes are the best I've ever read."
"… a book that keeps you on the edge from start to finish. Chris captures the true visual details of thunderstorms and tornadoes that allows you to actually envision being at the base of some of nature's most powerful events. This one kept me up late a few nights."
" 'Anyone who dared run their cherished hobby through pop culture's brain shredder,' Chris Kridler notifies us in her latest romp, 'was looked upon about as favorably as an intestinal virus on a cruise ship.' And that resentment runs strong in her second storm-chasing thriller, 'Tornado Pinball' But when your passion burns through massive quantities of cash, selling out no longer engages the gag reflex with the same urgencies it used to. And Jack, the uncompromising rogue swordsman who starred in 'Funnel Vision,' has done just that, along with so many fellow adrenalin freaks who've joined the competitive gravy train of insipid reality TV. After all, when your addiction is the 'terrible magnificence' of the storm as it 'evolve(s) from a white cone wrapped by cascading curtains of brown dust into a massive, rusty cylinder of rotating ripples, a barber pole of violence' – well, you'll crank the bar straight into the ground in order to get that fix. Kridler shows us what happens when science meets the high-flying theater of the absurd, forcing Jack to take a good hard look at his own motives. And yet, despite the reckoning of swallowed pride – what happens when one of those fellow travelers turns out to be a woman 'whose voice (is) the place where bourbon meet(s) vanilla ice cream'? How about climate change, where a barren prairie can morph into the tropics at the first strains of Ella Fitzgerald doing Irving Berlin? So read this rascal NOW!"
Storm Seekers Book 3: 'Zap Bang'
ZAP BANG
the sequel to Funnel Vision
and Tornado Pinball
Amazon: Paperback
| Kindle

Barnes & Noble: Paperback | Nook
Also at: Apple Books | Indiebound | Kobo
The mission is electrifying,
but danger can be twisted …
For tornado chaser Jack Andreas, an invitation to a lightning study means double the danger. As he sees it, what's not to love? He's intrigued by the job and fascinated by pilot Maribeth Lisbon, who must fly a research plane into the zap zone. Maribeth suspects he's trouble, especially when his charms set off all her alarms. In their way are scheming TV chaser Brad Treat and down-on-his-luck adventurer Aurelius Zane, intent on filming a wedding in front of a twister. The eccentric billionaire who funds the study has a secret agenda. And a mystic with a food truck tests them all. As fearsome storms put them in mortal peril, Jack and Maribeth find their toughest challenge may lie within.The sequel to FUNNEL VISION and TORNADO PINBALL, ZAP BANG concludes Chris Kridler's Storm Seekers trilogy with action, drama, humor and romance.
READ A FREE SAMPLE | GET FREE KINDLE APP
READER REVIEWS OF 'ZAP BANG' …
"Chris Kridler is an extremely talented writer and shows again in Zap Bang, the third novel in her Storm Seekers trilogy, that she can deliver not only a riveting plot and nuanced, complex characters, but also finely detailed technical aspects of the storm-chaser life. Zap Bang is a feast for weather, atmospheric sciences and aviation geeks, and for fiction lovers of all persuasions. In Zap Bang, we get another welcome dose of hunky storm chaser Jack Andreas. But, just as interesting, we get to know pilot Maribeth Lisbon, an Iraq vet and fiercely independent woman who, nonetheless, can't help falling for Andreas. The attraction is scintillatingly mutual. Their romance plays out against the backdrop of a dangerous lightning research study in Tornado Alley and involves a carnival crew of quirky secondary characters, including a mysterious elderly shaman/food truck owner who reads the weather of the spiritual world but carries his own deep secrets. Harrowing escapes from twisters, beautiful descriptions of tumultuous cloud phenomena, love, lust, longing, loss and redemption, Zap Bang has it all!"
"Author, storm chaser and journalist Chris Kridler ends her Storm-Seekers trilogy with a 'Zap Bang.' Her newest novel follows storm (and women) chaser Jack Andreas as he joins a lightning research project funded by an eccentric billionaire. Jack is paired with veteran and pilot Maribeth Lisbon who will fly a refurbished A-10 Warthog as a part of the coordinated storm chase. Also out chasing is a group filming a reality TV show, 'Zany Weddings,' including a less-than-honest storm chaser and an adventure television host. Adding to the mix of interesting characters is a wandering hippie who drives a food truck and dispenses philosophy with his tasty food as he tracks storms and storm chasers. All these people converge for an entertaining, scary and sometimes funny romp across Tornado Alley. There is adventure and romance and some have hidden agendas. Ms. Kridler accurately portrays the beauty and danger of the American Plains during storm season along with the difficulty of the chaser lifestyle. It is not all glamor and often the need for money will override rational decisions. The pace is quick. Her characters are strong. Some are not likeable but are at least interesting and funny. As the third book in a trilogy, there are returning and new characters. One doesn't have to read the previous books to understand and enjoy this novel. I highly recommend 'Zap Bang.' A bit of caution: Don't start in the late evening as you'll be sucked in and will stay up too late reading this book."
"Chris Kridler is at it again with another excellent, keep-you-up-at-night book that is too hard to put down. I loved this book for many reasons. Her accuracy is impeccable in regards to what it's like to storm chase, the cities, places and towns along the way and all meteorologic terminology. The characters were quirky enough to keep it very interesting yet down-to-earth enough to be believable. You can't help pulling for Jack and Maribeth to solidify their relationship, yet you understand each's hesitancy to keep a respectable emotional distance. And I loved that she brought back characters Brad Treat and Aurelius Zane with a scheme to chase storms with another money-making twist. The book has adventure, excitement and sprinkles of humor that actually made me LOL."
"The billionaire Dr. Y is obsessed with lightning, and he hires Dr. Jack Andreas, a tornado storm chaser, to assist in his latest research project. When Jack meets the gorgeous female pilot involved, sparks begin to fly. As they try to stay on track (there are a few distractions!), the crazies on the road also interfere — some bumbling amateur storm chasers, a psychic doling out spiritual awakening with his gourmet sandwiches, and even a storm chasing truck outfitted to look like a wedding cake. We see the return of Brad Treat, that egomaniac TV show host from the author's previous novel and the dignified but down-on-his-luck Aurelius Zane (whom I adore! I'm gonna miss that character). This novel is humorous, heart-warming and sexy. I love the ending. A great read!"
"Zap Bang is one of those books that will cause sleep-deprived workdays because you won't be able to put it down. Its author, who writes such evocative descriptions of the passion and power of big skies and big storms, works her sensuous, story-telling magic in alluring and provocative scenes of romance. The hero is sultry, dark, brooding and sexy. His female counterpart is strong, no-nonsense, empowered and sexy. Rather like comic relief used to leaven drama, nutty characters here leaven the intensity, creating a satisfying texture you can sink your teeth into. This is rich, fun stuff. I absolutely loved this book."
"This third book in Chris Kridler's Storm Seekers Series is terrific – one of those books that you start reading over coffee at a cafe, and keep reading into the wee hours of the morning. Some of the characters flow over from the first two books in the series, and a few new and very interesting folks join the chasing. This is a great story, with lots of twists, turns, and humor; mixed with magical, romantic, sexy moments. You could read just this book and love it, but I would recommend picking up all three. Start at the beginning and enjoy them all."
---
BIO
Chris Kridler is a writer, editor, photographer and storm chaser. She is the author of Funnel Vision, Tornado Pinball and Zap Bang, storm-chasing adventure novels in the Storm Seekers Series. She also writes romances and mysteries under a pen name. As a journalist, she's covered a variety of topics, from space to lifestyles, and was a longtime columnist for Florida Today. Chris's photographs have appeared in several magazines and books, including the covers of The Journal of Meteorology, the book Winderful, and the Wallace and Hobbs Atmospheric Science textbook. She was featured in Popular Photography. Her short film "Chasing Reality" won the best documentary award at the Melbourne Independent Filmmakers Festival in Florida in 2011; she won best animation in 2013 with "The Chase." She has been interviewed in various media about her storm-chasing adventures. Learn more at ChrisKridler.com.