The Storm Seekers Series
Storm-chasing adventures by Chris Kridler: Funnel Vision, Tornado Pinball and Zap Bang
Chris Kridler's Storm Seekers Series takes readers on unforgettable adventures in Tornado Alley with the obsessive, fascinating, quirky and relentless souls who populate the nomadic, exhilarating world of storm chasing. With elements of action, drama, humor and romance, each novel can be read on its own, though some characters' stories continue through the series. Click a cover to learn more about each book, or read on to learn about the digital boxed set.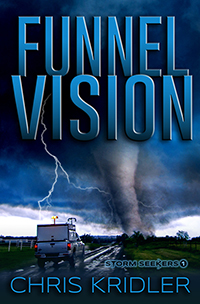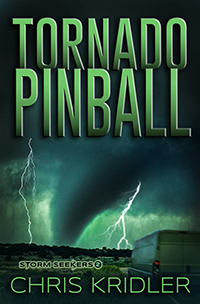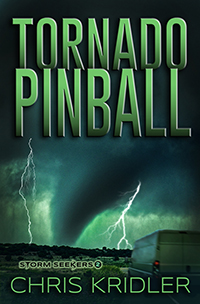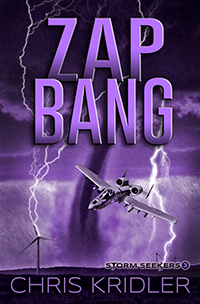 THE STORM SEEKERS SERIES: FUNNEL VISION | TORNADO PINBALL | ZAP BANG
Digital boxed set!
THE STORM SEEKERS SERIES BOXED SET
a digital omnibus of three complete novels
Kindle | Nook | Apple Books | Kobo | more
The first three novels in Chris Kridler's Storm Seekers Series, three complete storm-chasing adventures, are gathered into one digital set – three gripping novels full of action, drama, humor and romance. Though each book can stand alone, recurring characters and references make the boxed-set experience richly entertaining.
Included in the digital boxed set are the complete novels Funnel Vision, Tornado Pinball and Zap Bang. The books are still available as individual ebooks and paperbacks; see below for details and free samples of each book.
From a reader review: "Kridler's fast-paced books combine tornado-chase scenes, nuanced romance and sex subplots, believable, quirky characters, and superb descriptions of nature's sudden cataclysms and ever-changing sky phenomena. She writes with equally honed skill about science, technology, relationship angst or spiritual dilemma, with a deft comedic tone when it comes to the often absurd human side of things. Kridler is a keen observer of life and its rude complexities."
'The Storm Seekers Trilogy Boxed Set: 3 Complete Novels,' a digital omnibus by Chris Kridler (Storm Seekers, Books 1-3)
Publisher: Sky Diary Productions | Literature > Adventure
Kindle ISBN: 978-0-9907836-9-5 | ePub ISBN: 978-0-9907836-7-1
List price: $7.99 ebook
---
---
BIO
Chris Kridler is a writer, editor, photographer and storm chaser. She is the author of Funnel Vision, Tornado Pinball and Zap Bang, storm-chasing adventure novels in the Storm Seekers Series. She also writes romances and mysteries under a pen name. As a journalist, she's covered a variety of topics, from space to lifestyles, and was a longtime columnist for Florida Today. Chris's photographs have appeared in several magazines and books, including the covers of The Journal of Meteorology, the book Winderful, and the Wallace and Hobbs Atmospheric Science textbook. She was featured in Popular Photography. Her short film "Chasing Reality" won the best documentary award at the Melbourne Independent Filmmakers Festival in Florida in 2011; she won best animation in 2013 with "The Chase." She has been interviewed in various media about her storm-chasing adventures. Learn more at ChrisKridler.com.