'Chasing Reality' film shows the weird, funny, grungy side of storm chasing
WINNER, BEST DOCUMENTARY, 2011 MELBOURNE INDEPENDENT FILMMAKERS FESTIVAL
OFFICIAL SELECTION, 2012 BARE BONES INTERNATIONAL FILM & MUSIC FESTIVAL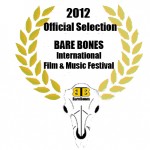 Storm chasing is portrayed as an extreme sport on television, but the reality is dramatically different. In Chris Kridler's short documentary "Chasing Reality," storm chasers talk about life on the road, their peculiar relationship with their cars, and the frustration, smells and miles that go into those few moments of seeing a tornado.
Chris Kridler, a storm chaser since 1997, interviews chasers about their bizarre, humorous and mundane experiences against the backdrop of a typical chase day. Her documentary account, which she also narrates, is illustrated by the rapturous beauty of the Plains and intense moments confronting nature's violence in Tornado Alley.
Ads help pay for the hosting and maintenance of this site. Thank you for visiting!