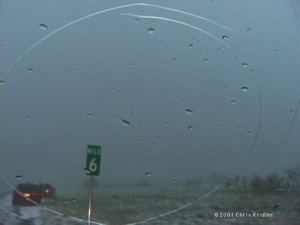 Back in 2001, when I'd been chasing storms for just a few years, Dave Lewison and I met up with Scott Blair and Jason Politte on May 30 and headed into northeast New Mexico in pursuit of supercells. We found one that formed on the high plains. There were cold temperatures aloft and the perfect ingredients for rock-hard hail. We knew the storm was producing this hail – we could see it, falling from the cloud like a white waterfall – and we were determined to get ahead of it.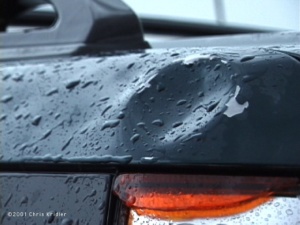 Even now, chasers get caught by hail. Hell, some chasers rush into it. But back in the days of no in-car radar data, when we'd "go visual" to figure out where to be in relation to the storm, it was even easier to screw up. And boy, did we screw up. We got on I-40 and were caught by the storm just inside the Texas Panhandle, with no exits or shelter in sight. Our cars were bombed by sideways-blowing hail for about ten minutes, including stones up to baseball size. To this day, I avoid chasing storms on Interstates because of this experience.
I've posted a new edit of the video from this day. Be warned: THERE IS CURSING. This was also way before everyone was shooting in high-def. And listening to my angst makes me cringe a bit. But because of this experience, I kept my cool when I got into an even worse hailstorm on May 12, 2005. You might say I've become a bit hail-avoidant since then.