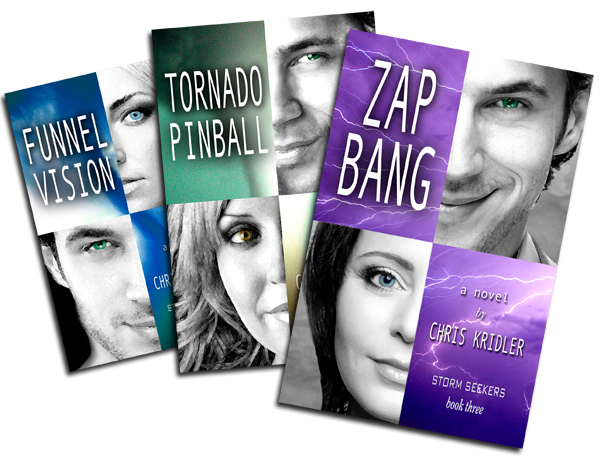 It's launch day for Zap Bang! That means the third novel in the Storm Seekers trilogy is officially for sale, and I hope you'll check it out! Here's what you need to know:
Giveaway: The Storm Seekers Prize Pack Giveaway is under way through Sept. 22. Enter here or on Facebook. The goodies include signed paperbacks, a very cool captured lightning sculpture, a storm T-shirt and more. Via the giveaway, you can Tweet every day to stack up your entries, too.
Funnel Vision sale:
If you haven't read the books, now's a good time to grab the
Kindle
or
Nook
editions of Book 1 –
Funnel Vision
– on sale for 99 cents for a limited time.
Goodreads giveaway: Go to this page on Goodreads to register to win an autographed paperback copy of Zap Bang. The entry period ends Sept. 30.
All about Zap Bang: The sequel to Funnel Vision and Tornado Pinball, Zap Bang concludes the Storm Seekers trilogy with action, drama, humor and romance. Here's the setup:
For tornado chaser Jack Andreas, an invitation to a lightning study means double the danger. As he sees it, what's not to love? He's intrigued by the job and fascinated by pilot Maribeth Lisbon, who must fly a research plane into the zap zone. Maribeth suspects he's trouble, especially when his charms set off all her alarms. In their way are scheming TV chaser Brad Treat and down-on-his-luck adventurer Aurelius Zane, intent on filming a wedding in front of a twister. The eccentric billionaire who funds the study has a secret agenda. And a mystic with a food truck tests them all. As fearsome storms put them in mortal peril, Jack and Maribeth find their toughest challenge may lie within.
Catch some of the adrenaline in the book trailer:
You might also like to read about the playlist I created as inspiration while I was writing the book. For more details about the books and free sample chapters, visit the books page.
To make it easy, here are links where you can buy Zap Bang:
Amazon: Paperback
| Kindle

Barnes & Noble: Paperback | Nook
Also at: iBooks/iTunes | Kobo
So there you go. Zap Bang is in the wild, and a wild, lightning-laced adventure it is. I'll dearly miss writing about these characters, but I hope you'll enjoy living in their world as much as I have. Happy chasing!