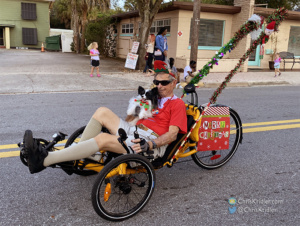 Why yes, there was another holiday parade today between Rockledge and Cocoa, this one landlocked (see previous post for photos from the boat parade). It had all the charming elements one wants from a Christmas parade: fire trucks and miscellaneous municipal vehicles, kids marching, dancing, shouting and riding on floats, and candy thrown at spectators.
I especially enjoyed seeing my awesome in-laws riding their trikes while holding their adorable papillons. Decorated, of course – the tricycles and the dogs.
This is a short video roundup that will give you the (sweet) flavor of the event. I shot this in Cocoa Village, Florida. Happy holidays!