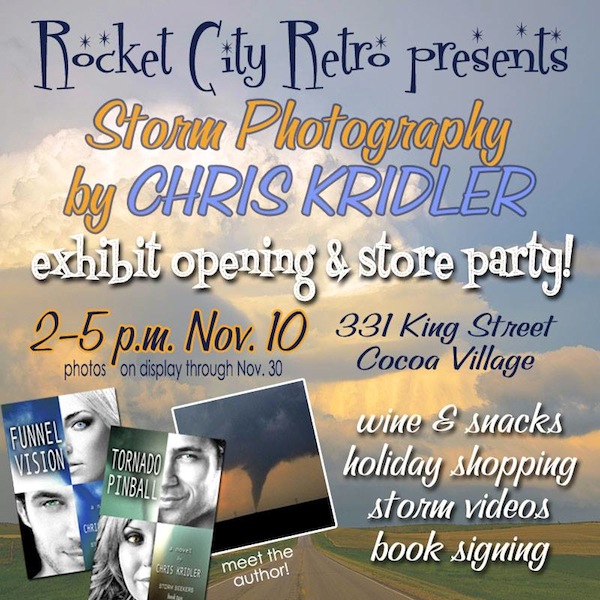 I have several events coming up, and I hope you can join me to talk about storms and books!
On Sunday, Nov. 10, I'll sign books at a party marking the launch of a new storm photography exhibit. It will include photos from this year's chaotic storm season. The party is 2-5 p.m. at Rocket City Retro Mid-Century Modern Furniture & Design, 331 King St., in Cocoa Village. The free event will feature wine, hors d'oeuvres and storm videos in addition to photography of tornadoes, lightning and severe weather, displayed amid Rocket City Retro's stylish furnishings and gifts from the 1950s to the 1970s. My photos will be on display through Nov. 30.
I'll also be at the Meet the Authors Book Fair Nov. 23-24 at Eau Gallie Civic Center, which happens in conjunction with ArtWorks. I'll be signing "Funnel Vision" and "Tornado Pinball," the first two storm-chasing adventures in the Storm Seekers Series.
Also catch my storm photography Dec. 2-31 at the Cocoa Beach Library, 550 N. Brevard Ave. In a free library talk on Dec. 4 at 6:30 p.m., I will discuss what it takes to shoot great storm and lightning photos, drawing on 17 years of experience chasing storms in Tornado Alley and Florida. And I'll sign books, in case you haven't picked up yours yet.
See you out there!