I'm competitive. I try not to be. I know this society is all about WINNING ALL THE TIME. And I want to win and get approval and all of those things. But I don't like my competitive tendencies all that much. They lead to comparison-itis, which plays a lot into my writing career. Not so much my photography, because I know I don't always have the opportunities other photographers have. I try to make things work where I am.
I did have a great opportunity Monday evening, but time and logistics screwed me over. We had passes to be at the Cape Canaveral lighthouse for the SpaceX Falcon 9 rocket launch and booster return. I spent hours getting my cameras ready and plotting where I would shoot.
We'd had a difficult time getting to the site (thanks to blocked roads) the last time we went to the lighthouse, so this time, I figured we'd take the "main" road we exited on last time. We traveled through the base and down this long road only to find it was blocked with no obvious, quick way around to our destination. Which we found out uncomfortably close to launch time. There was no way to figure out the right route there by then – Cape Canaveral Space Force Station is a sprawling campus webbed with pitch-black roads through wild areas that wind hither and yon – so we had to settle for a shot from the causeway.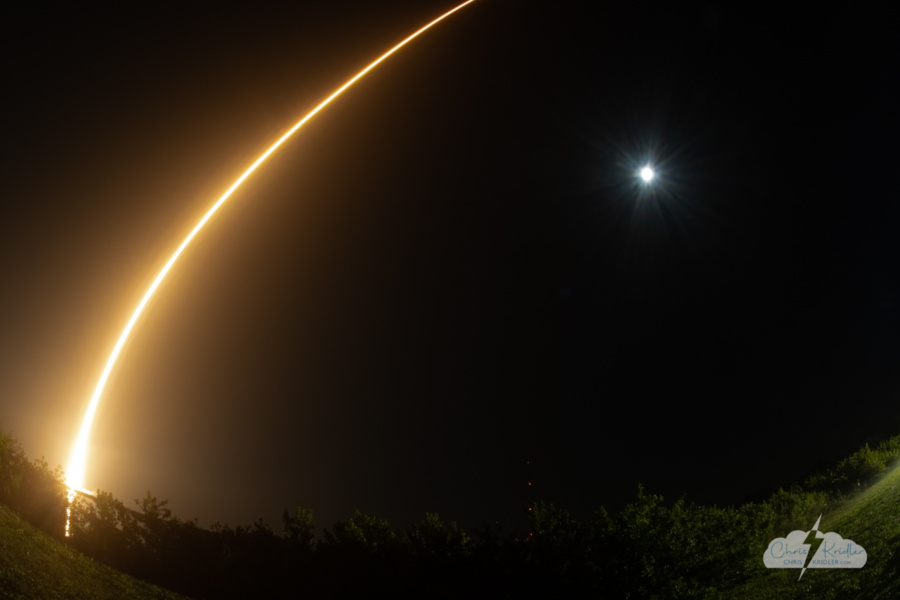 This last-minute change meant I not only couldn't get the shots I wanted, but I didn't have time to set up all my cameras or properly set up what I had. The photos didn't turn out the way I wanted. I was using a different camera for the long-lens shot than I usually do. It's heavy with the 200-500mm lens and hard to handle anyway. I fumbled with the settings, messing up some shots and, in the process, somehow turning the quality setting from JPG Fine + RAW to just Fine as the rocket was in flight, limiting my editing options later. The streak shot on the other camera went out of frame, a less than desirable outcome. Basically, it was a photographic disaster.
Symbolic of this fiasco is the exposure after the streak shot; I accidentally hit the shutter again and got a crazy zigzag light show as I repositioned (the image you see in the blog list). Eh, maybe it's art.
These photos aren't awful. But they aren't what I envisioned. And I saw another shot from the lighthouse that night – not the one I'd planned out, but still, it reminded me of the opportunity I missed. There was a painful lesson in this: Figure out the blocked roads ahead of time and allow an extra hour to get there and set up. Even if the launch is in the middle of the night. Or especially if it is.
Time is a photographer's friend. You don't always have that luxury; storm chasing is a prime example. It's very much a run-and-gun situation. But when you can take extra time to set up, it's always worthwhile.
You can roll over a photo to see the caption or click on one to start a slide show.