I'm excited to be doing a book signing with three other Space Coast authors on Dec. 7 at Eau Gallie Arts District's First Friday from 5:30 to 8:30 p.m. This time, in addition to the gallery walk and vendors, there's a Christmas tree lighting complete with a visit from Santa and entertainment. We'll be in a tent on Highland Avenue. Who's "we"? There's Terry Cronin, who will be signing his entertaining "Skinvestigator" mysteries, about a crime-solving dermatologist; Karlene Conroy, co-author of "The Don Quixote Girls," about four sandwich generation girlfriends and the issues they face together; and Carol Ann Didier, author of the "Apache Warrior" romance trilogy. And I'll be signing my storm-chasing adventure "Funnel Vision." I'm very close to finishing the sequel, "Tornado Pinball," and I'll be writing a lot more about that and my National Novel Writing Month experience, which is almost over … just a couple more chapters …
The Eau Gallie Arts District is the Eau Gallie neighborhood of Melbourne, Florida, centered at Highland Avenue and Eau Gallie Boulevard. There's a lot of great energy there right now, with new galleries and big changes at the Foosaner Art Museum (formerly the Brevard Art Museum). This will be a fun night.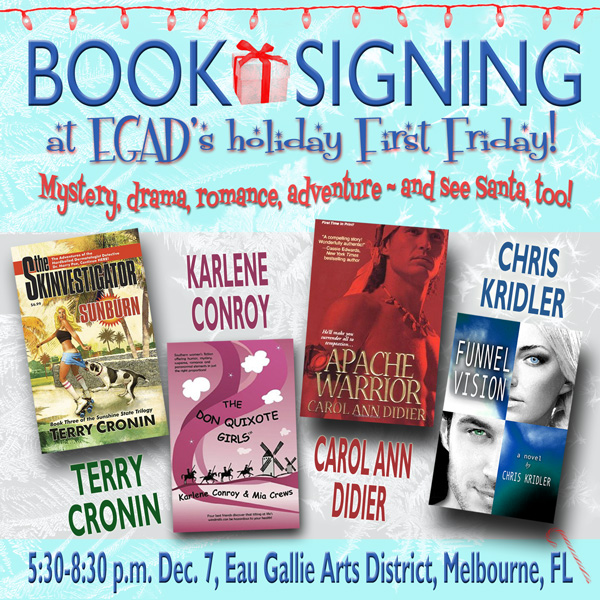 Signed books make nice Christmas presents. So there's your commercial announcement du jour. Have a great day.