Here's a collection of bulletins from the field, written during my 2000 storm-chasing trip in the Great Plains. They are slightly edited. Dates reflect when each bulletin was written.
JUNCTION CITY, Kansas … May 10, 2000
Chasing storms is a bit like playing chess with the sky when all you know is checkers. The sky, unpredictable and complicated, always wins.
There hasn't been much to chase so far. I set out Saturday from Florida for parts west — a 15-hour drive that put me in Monroe, Louisiana, for the night. The highlight was entering Mobile, Alabama, over an expanse of water, on a long, curving road at twilight. The sky was deepening into dark, and the highway was punctuated with street lamps, strung out before me like beads on a necklace. The low point was a psycho trucker who was harassing me by rushing up to get on my bumper, passing me, slowing to a crawl, waiting until I passed him, and then beeping at me. This happened several times until I got off the highway and took a little nap at a rest stop. I needed it anyway, as sleep-deprived as I was.
The second day's drive … only eight hours … got me to Norman, Oklahoma. The next morning, after seeing some of the old faces from Cloud 9 Tours, Dave Lewison and I set out. We drove around in circles for hours and hours, trying to play a warm, moist area ahead of the cold front in central Oklahoma. Instead, a few storms broke out behind the front near nightfall, but considering the distance we had traveled and their relative wimpiness, they didn't seem worth lingering over. We saw a few flashes of lightning in the storms, north of Oklahoma City, as we set off for Lubbock, Texas, where I had to do some interviews for my paper the next morning. We arrived just before 4 a.m. More sleep deprivation!
At Texas Tech, we got to see the sensor-studded building that researchers rotate to face into the wind. We talked to some knowledgeable folks about the latest in storm shelters. We also saw a few dust devils in a field outside town. Dave "punched the core" of one — running into it, that is. He was brushing away dust all day afterward. This is what storm chasers do for off-day excitement.
Today was a gruelling drive in anticipation of marginal storms that never showed up. We realized that would be the case by mid-afternoon but wanted to get into position for tomorrow. The problem is, tomorrow's chances are way the heck east — Iowa, Minnesota, even Wisconsin — and I don't know if we can make it from here, near Manhattan, Kansas. So we'll have to decide after looking at data in the morning.
At least it's good to be roaming the Plains again. We've been through one small town after another, dusty monuments to perserverance that fall apart a little more every year as the wind howls across the flat, desolate and strangely lovely land. There was the historic windmill park in southwest Oklahoma… the Kinsley, Kansas, sign marking the "Midway U.S.A." point between New York and San Francisco … a sign for "Shotgun Dave's Viking Barbecue" … a little Kansas carnival … the faux dinosaur that sits atop a hill in the northern Texas panhandle … long trains that snake through the hills and over the flats … a water tower in central Oklahoma that looks like a peach (but not like the famous butt-shaped peach tower of Gaffney, S.C. — thank goodness).
We shot some pictures today of a burnt orange sun setting behind a pumping oil well. It was a cliche, but a beautiful cliche.
Tomorrow … who knows?
SALINA, Kansas… May 15, 2000
We've been driving so much, I've hardly had time to write a thing. But here we are, in Salina, Kansas, on the eve of another chase day.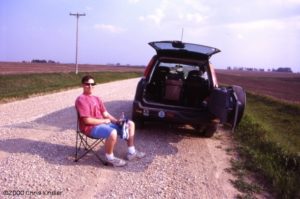 Last Thursday, Dave and I targeted northeast Iowa. Low pressure was moving into the area, which would cause the surface winds to come from the south or southeast, while upper-level winds were streaming in from the west. The result: shear in the atmosphere, meaning if a storm went up — and it was likely where the warm and cold fronts met — it would probably rotate.
Dave and I found ourselves in an area with a 74-degree dewpoint and promising cumulus clouds that were starting to bubble up and bump against the warm layer of air known as the cap. One area seemed particularly promising, as the towers became hard and aggressive there before collapsing. They got bigger as time went on. It seemed that any moment one might burst through. We sat on a dusty farm road west of Grundy Center and waited, with phone calls to Steve Sponsler and Cheryl Chang back in Florida confirming that we were in the right place. About this time, California chaser Mark Aubin met up with us.
Then the beast exploded.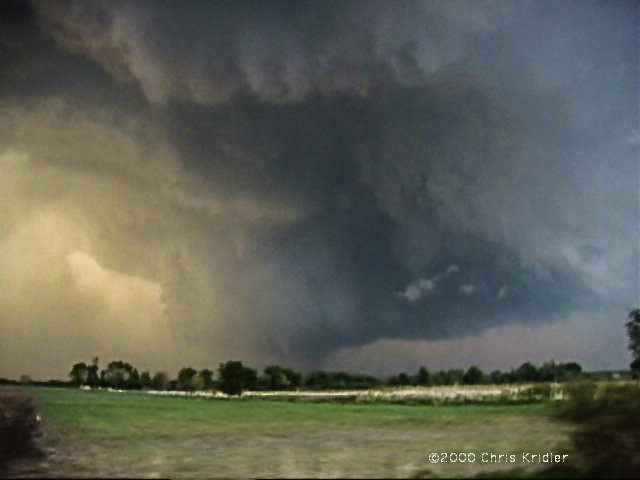 This is the storm that would produce a damaging tornado in Dunkerton. The truth is, it was a tornado machine. As we pursued the rapidly expanding cell, heading north to catch up with it, we saw it developing a succession of rotating wall clouds and kicking up dust. Unfortunately, we missed the first two powerful tornadoes as we found ourselves stuck in the town of Waterloo. Navigating around it cost us valuable time and position. We had no idea a couple of giant tornadoes (as seen on The Weather Channel) were chewing through an area well north of us. The chasers who saw those tornadoes punched into the storm from the north.
Our efforts were not in vain, however. We navigated a series of gravel farm roads to keep up with the beast, which had several mesos — mesocyclones or areas of rotation — at once. While we watched the storm, Dave watched it on his tiny TV too — a crazy man in a helicopter was flying around the supercell, filming it for a local television station. The first obvious tornado that we saw was backlit by lightning and produced a bowl of dust under the meso. It also produced a fast, white satellite funnel that orbited around the main funnel — one of the most amazing things I've seen. It was a multiple-vortex monster. The storm produced another tornado near the multiple-vortex funnel, then another one in a field just to the east … and very near us.
It was getting dark at this time. We thought we'd attack the western portion of the storm, where it looked promising on radar (as seen on TV!), then changed our minds and headed east to keep up with the leading edge. I got some eerie video near Manchester of some suspicious-looking clouds looming over the land, seen in brief moments, lit by lightning flashes, as tornado sirens went off. I am pretty sure they were "scud" clouds, raggedy clouds on the leading edge of the storm, though they had a funnel shape. We heard damage reports from Dunkerton and realized we'd missed some of the tornadoes, but we'd seen a storm of tremendous and humbling power.
Friday was hardly worth the drive into Illinois. Though we were in the midst of multiple warnings, we could see almost nothing because of the haze, mushy clouds and precipitation. And struggling against the heavy traffic in populated areas didn't help either. It became a war of attrition. We were in Mattoon when the sirens went off, with a screaming south wind blowing horizontal rain at us. That suggested there might be a meso nearby, but we couldn't see crap! We got some marble-sized hail and saw some hot lightning out of the storms, then headed back west. Frankly, I was relieved to cross the Mississippi again and spend the night in Missouri. The next day, we were back in Oklahoma.
The annual storm chaser party was Sunday in Texas, at Storm Track editor Tim Marshall's palatial home, where we saw lots of chasers and lots of video. It was a true geekfest, and there were very few women present. I interviewed a few chasers for a Florida Today story about gear and gadgets — boy, do I feel ill-equipped now.
Now, we await what a huge trough will bring to the Plains in the next couple of days. I expect we'll head to western Nebraska tomorrow. The skies could get really violent by Wednesday. Or not.
It's all about the moment. An orange sunset. A green wheat field. A stroke of white lightning slicing open a midnight sky.
I have no idea what's next. I like it that way.
FORT WORTH, Texas … I-35, en route to Abilene … May 19, 2000
There's nothing like a really good day followed by a really bad day. The really bad day makes you forget how good the good day was. Too bad it didn't work the other way.
No doubt many of you have seen the footage of the big tornado in Nebraska on Wednesday. And no, I wasn't there. Dave and I teamed up with Jay Antle in Ogallala, Nebraska, and checked data on the Web that morning (May 17). We targeted an area southeast of there and ran into several other chasers at a truck stop in Elm Creek. As storms went up north/northeast of the low, we decided to play the area just southeast of the first storm, where we thought more storms would fire, in an atmosphere more conducive to tornadic supercells. But this low had other things in mind. The northernmost storm — not the southern one, as often occurs — was the one that produced the tornadoes. We still feel sick after missing it. We played the storm south of it, but it just didn't do it. As other storms went up, none of them survived the strange dynamics.
The only comforting thing is that we ran into a lot of other chasers who also found themselves farther south. However, one, legendary chaser David Hoadley, went north in time to catch the big tornado, as we found out later. We could have caught it if we'd shot north. For us, it was a "wet bust" — we saw storms but missed the storm of the day.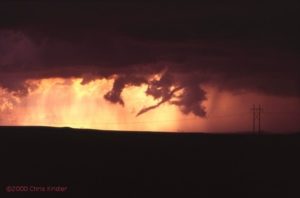 Going backwards in time to May 16 — the day before — we played what seemed iffy chances for supercells in western Nebraska. We thought the action would be in extreme western Nebraska or even eastern Wyoming, especially after checking data and running into chasers Keith Brown and David Fogel (again in Ogallala). As we zoomed west, it became clear that this was going to be a major chaser convergence. Translated: A circus of idiot drivers. Now, obviously, I don't think all chasers are irresponsible, but there are definitely chasers who are giving the rest of us a bad name. They are also becoming incredibly ostentatious, with loads of silly equipment on their roofs, including (in my opinion) useless marine radar units. What, are they going boating in their Ford Expeditions?
We saw a big anvil from a massive storm as we neared the state border, so we took the plunge into Wyoming (a new state for me). Not much good structure was evident, but as soon as we got close enough, we could see what appeared to be two wall clouds hanging from its base. This storm had potential after all.
We kept driving closer to it, with our view hampered by lovely foothills — nearly mountains — as the storm produced a big, cone-shaped funnel. By all accounts, it didn't touch the ground, though we had a pleasing optical illusion with the bottom of the cone obscured by a peak. It sure looked like a tornado!
As we passed several chasers parked by the side of the road and got through Guernsey, we proceeded uphill again to a beautiful vantage point east of the area of rotation. We were nearly alone (for a while) at this lofty spot. The storm produced a finger-shaped funnel that became a wispy rope, appearing to touch down only at the last moment. It seemed that, yes, we saw a tornado, the most ephemeral of tornadoes, backlit in orange as it dissipated in a sinuous tendril of smoke-gray vapor.
The tornadic show was over, but the light show was not. What followed was an incredible sunset of blues, greens, purples and oranges, muted by curtains of rain, waves of dust and roiling clouds, which gave the sky the feel of a rich, abstract watercolor. Paralleling the road were more trains than I'd ever seen, their headlights bright as they crept alongside the roadway, as if trying to find their way out of a mist.
After dark, we ran into the Cloud 9 Tours group at a Pizza Hut, where we could see an amazing lightning display and gusting clouds of dust outside. The group was a bit dejected at its bad view of the teeny tornado, but they would all feel a lot better the next day — they saw the big Nebraska storm.
Right now, as I write this, we're traveling under the messy rain and corpulent gray clouds of the cold front hanging over north Texas. (Dave is driving, of course!) We saw some great lightning in north Texas last night, but it wasn't close enough — we tried to get closer, but in our fatigued state, we just couldn't drive any farther after leaving Hastings, Nebraska, yesterday morning. We have slim hopes of storms in west Texas on Saturday. Then Dave joins Cloud 9 Sunday, while I go my own way.
***
A little after I wrote this, we decided to broach the line of storms on the cold front in north Texas and caught the whole arc of a brilliant double rainbow, as well as some milky mammatus clouds against a battleship-gray sky. Sometimes the little moments are as wonderful as the big ones!
NORMAN, Oklahoma … May 22, 2000, 1:44 a.m. central time
I'll make this a short bulletin, since there's not much to report. Chaser angst has set in big-time.
Sunny days are dreadful when all you want is storms. But it's amazing how weak dynamics will produce storms anyway. The magical Texas panhandle has kicked off storms for two nights running. Saturday night Dave and I caught some fabulous lightning in the panhandle and western Oklahoma; I have yet to see if any of it showed up on film, as I haven't had my slides developed yet. I'm not terribly hopeful, as I'm still learning my way around both lightning photography and my new camera. But the experience was satisfying.
Tonight, the storms came to us, in Oklahoma City, though the line was a brief and unimpressive distraction.
I expect to set out for Kansas tomorrow.
ALTUS, Oklahoma … Friday, May 26, 2000
Many chases and, before you ask, no new tornadoes.
I know, it's not really about the tornadoes. But more and more, I get irritated if there are tornadoes and I don't see them.
Monday, I was going to head to Goodland, Kansas, to start work on an article about the latest severe-weather research project. Instead, kicking around on a hot afternoon in the Guest Inn parking lot after a local photo lab in Norman, Oklahoma, scratched — nay, scraped! — some of my precious slides during developing — an impromptu chase developed. A look at data revealed a bullseye of potential developing over northeast Oklahoma. The caravan: George Kourounis, with Dave as a passenger (Cloud 9 Tours wasn't chasing that day, so Dave, who had joined the tours, rode with George); Richard Bedard, author of "In the Shadow of the Tornado" (nice book!); and myself.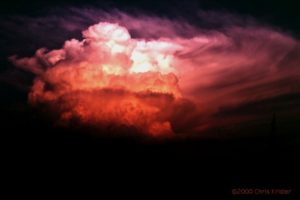 We saw the storm from when it was a pup, a little towering cumulus. It exploded and soon became a big bad dog — isolated. Huge. Multiple overshooting tops. But it was SCREAMING southeast, way ahead of us. It zoomed into Arkansas (Richard left us in mid-chase because of the hopelessness of the pursuit), and we had to listen to hail reports and spotter-reported tornado warning(s) as we tried to pursue it. We ended up in Arkansas, just east of Fort Smith, with a photogenic bomb that formed on its backside — very pretty, though it croaked at sunset. We met David O. Stillings, the Lightning Stalker (that's just how he introduces himself, too, at rat-a-tat speed) and Jason Persoff, both Florida chasers traveling with a Pioneer Productions TV crew, as well as a couple of Arkansas chasers — Jason Politte and Scott Blair. We're all part of a strange, little mobile community that keeps meeting on the grassy banks of farm roads in the middle of nowhere.
The distant chase meant, after yet another meal at Pizza Hut, that I had to make strides toward Goodland, on the western edge of Kansas. To make a long story shorter, after a stay in Salina, Kansas, that night (or morning, actually), I got to Goodland the next afternoon and did some of my reporting Wednesday before heading south to try to catch some potential storms in Oklahoma and Texas. While checking data at a truck stop in Cimarron, Kansas, I noticed a couple of puffs of white on the satellite image in the most promising area. But the time I'd gone outside and filled up the tank, the puffs of white were aggressively building storms, in sight to my south, on the border of the Oklahoma and Texas panhandles. I ended up punching the core of one, but it was just a huge HP (high-precipitation) mess. Got a fantastic rainbow and lovely sunset near a windmill on the west side, however, as well as some pretty lightning while I headed for Woodward, Oklahoma, where I spent the night.
Thursday was a romp through the Oklahoma and Texas panhandles — I was supposed to meet Cheryl Chang and entourage in Guymon, Oklahoma, but when I got there and called her she was a zillion miles away in Amarillo. Hmmm. I ended up on my own, getting into a mean storm in eastern New Mexico; I found the storm's base at the heart of its curtains of rain just as the storm began to collapse. My car was caught in the gust-out as dirt and vegetation blew across the road in front of me at what I'm guessing was, at times, 50 mph wind. As the car is buffeted while I speed south, you can hear me babbling on my videotape, "Uh oh. I'm in trouble. I might have to stop and turn my car into the wind here …" I was both dreading and hoping that it would produce a tornado right behind me before it completely blew itself apart.
Trapped in the road network from hell, I made it out of the maze of dirt roads (thank you, GPS!) and back into the gorgeous and desolate hills of the western Texas panhandle, following and penetrating the storms again. I got in the clear and saw a decent base on the storm I'd been through, but few roads and the need for fuel prompted a detour in Amarillo.
I heard the tornado warning too late to get there.
Twenty minutes can make all the difference when it's nearly 9 p.m. Daylight is almost gone. And the spotter-reported tornado, southwest of Amarillo near Dawn, Texas, on a completely different storm, was over by the time I intercepted the storm. By then, the sky was pitch-black anyway, notwithstanding the strobes of lightning.
The storms, however, were not over. Amarillo and surrounding towns were awash in the deluge — there was street flooding everywhere — and Canyon and a few areas east of the city were pounded with softball-size hail. I saw the most amazing lightning show of my life near Claude. It looked as if the hard white bolts were hammering the ground, they were so intense.
Then it was north to Spearman, Texas, to meet Cheryl and her gang at the NursaNickel Motel (really). On the way, I speedboated my way through street flooding in Panhandle — where the bank had its sprinklers running. Duh!
Today was the ultimate in frustration. I don't claim to be the best forecaster in the world, but I was thinking we should start in an area near Lawton, Oklahoma. We might have caught a long-lived tornadic storm reported later in that region — but we didn't go that way.
That's not to say today was without excitement. The caravan, which included Martin Lisius, Bill Reid and Brian and Nancy Morganti, criss-crossed the Red River, Texas to Oklahoma, back and forth, trying to get into the best position for the show in an atmosphere ripe for severe storms. In a stew of lowering pressure, frontal boundary, dryline convergence and very high dewpoints, towers went up everywhere in the region; some became storms and fizzled, some went crazy. We gave up on one storm to chase another, only to be lured by another that was probably a split from the first storm (which later produced a tornado, weather radio reported). The split — a left turner, we think — behaved in a bizarre manner. Its lowerings suggested a tornado was imminent, but as it sped north, it was showering us with precipitation, though we were east of it. We didn't realize just how fast it was going as we were blinded by the rain. As it made its escape, it THWACKED us with buckets of hail! I haven't inspected my car for dents yet, but let's just say I'm grateful it still has all its windows. I only saw one baseball, but most of what hit the car was golf-ball size and smaller. Big enough!
From there it turned into agony as we heard unreachable tornado warnings. We ended the day looking at a gorgeous, small, almost stationary cell near Altus that had apparently formed behind the tornadic storm well to its north. Its scalloped anvil glowed orange as it formed a bell-shaped updraft base — the shape was suggestive of rotation, but it simply lacked the power to complete the act. It was a lovely confection but a less than satisfying consolation prize.
So, more exhaustion, and another chase day tomorrow. My expectations are lower for tomorrow, so my disappointment should be lessened too.
SIDNEY, Nebraska … May 31, 2000
The day after my last bulletin … Saturday, May 27 … our group was heading south of Altus, Oklahoma, to play a promising area south of Wichita Falls, Texas. It was early afternoon, when you don't expect severe storms yet, but towers were going up already. We were shocked to hear the tornado warning for a storm near Archer City, Texas, around 1:30 p.m.! We missed two slender, landspout-type tornadoes before we got to the storm, but managed to get south of the cell in time to see a beautiful front-lit, long, white funnel extend from its flank — it lasted for a few minutes, and its rotation was obvious. (I do not believe it was a tornado, as some chasers have said, as we never saw it touch the ground, but it was very persistent.) It was about 2:30 p.m. To get ahead of the storm, we passed dangerously close to the swirling clouds, looking around constantly for signs of trouble as we drove under the edge of the storm, flirting with the hail core. A pickup truck with a bunch of happy, clueless people in the back were heading right into the core. Cheryl rolled down the window and yelled at them to turn around.
A big wall cloud looked like it was getting its act together, and then the storm went linear, forming a shelf cloud and losing its tornadic qualities.
We decided to punch the core of the storm to chase a couple of cells forming to its north. Fortunately, the precipitation area was small, and so was the hail where we bored through the line. Yet other chasers saw grapefruit-size hail out of the storm! But the other storms didn't have the power of the one we'd seen, and we were too far from the developing storms that produced tornadoes east of Dallas. Unlike a usual storm-chasing day, we found ourselves done with the chase at a normal dinnertime and ate with a group of other chasers. Then we went our separate ways.
Cheryl Chang and I visited with Steve Sponsler and Susan Jensen at their hotel in Wichita Falls briefly, then headed north to Lawton, where we were lucky to get a hotel room on the holiday weekend. The next day, Cheryl and I kicked around Oklahoma City, I dropped her at the airport around 5, and then I headed to Garden City, Kansas, to meet with Steve's group, which included Nick Nicholson, Susan, John Moore and daughter Beth, and Greg Brenneman.
Monday, I chased with the entourage in western Nebraska. The storms looked mushy, but we watched one for a while that had a rain-free base and kept developing new and fascinating features. It was full of texture and shadow. It formed a wall cloud and then an anti-cyclonic couplet — the sort of rotating feature that could produce a tornado. But then it showed all signs of a gust-out as it kicked up huge amounts of dust as outflow appeared to take over. It was totally "Lawrence of Arabia" as billows of dust roared across the roads and rose high in the sky.
We ran into Matt Crowther and Betsy Abrams and decided that the storm wasn't tornadic anymore and headed north to "better" atmospheric territory, but all we saw was Carhenge north of Alliance, Nebraska. Later a piece of the storm we abandoned broke off and reportedly produced a weak and dusty tornado. Such is life. We did see the most fantastic mammatus of my life on the way back to Sidney, Nebraska — a field of large, scalloped clouds hanging from the anvil of an otherwise unimpressive storm. The sunset cast this dramatic ceiling of clouds in golden light and architectural shadows. Gorgeous!
Yesterday was a big bustola as we went into eastern Wyoming and northeast Colorado. Early in the day, that area had looked good, but as the day went on, good old unreachable Iowa clearly seemed the place to be. Too bad it was too far away. Anyway, it was fun, as our already unwieldy entourage met up with several other storm chasers and loafed in a truck stop and along the side of a gravel road, hoping for a miracle, before heading back to Sidney, Nebraska, for dinner at Dude's Steak House.
Today looks iffy. I will have to head back to Goodland, Kansas, to do some more reporting for an article for Florida Today, so I'll do that sometime today. But if I can squeeze in a chase, I will.
GOODLAND, Kansas … June 1, 2000
The storm I saw today in eastern Colorado (thanks to Cheryl Chang for data) turned into a dust machine! It was the opposite of a vacuum cleaner. It was pretty from a distance, and it hit Goodland just as I was about to take my bags into the hotel, so I filmed it with the car door partly open. Dust got in EVERYTHING … I hope my camera survives. The entire inside of the car has a coating of dust. But I got a cool thing on video … the plant "greenhouse" outside the WalMart, which had plastic sheeting on a metal frame, was trashed by the wind as I was filming it. If only I could uplink to TWC … it's their kind of video.