I adore soundtracks, and I'm sure it's partly because they are so rooted in storytelling. It's no wonder they creep into the way I think about writing.
Movie soundtracks have meant a lot to me over the years. As a young moviegoer, I was exposed to a variety of music that I still love – not just original scores, but classical pieces, great jazz (thanks, Woody Allen), and the Great American Songbook. I was also swept away by certain pieces that one hears over and over again whenever someone on TV wants to convey a sense of epic heroism. My heart still leaps when I hear Randy Newman's "Knock the Cover Off the Ball" from
"The Natural."
I want to rush once more unto the breach, or shout into the wind, when I hear Patrick Doyle's "St. Crispin's Day" from the Kenneth Branagh version of
"Henry V."
And the great John Williams scores from our culture's most well-known films make up the soundtracks of our lives. Can I help it, then, if I'm constantly creating a soundtrack in my head for each book I write? My first get-out-the-ya-yas, never published novel had a Strauss waltz as its theme ("Artist's Life"). My two storm-chasing novels also have soundtracks, or perhaps I should call them playlists, since they are not officially sanctioned by artists or composers. It only makes sense that I sometimes borrow from other soundtracks when I find the perfect tunes for my novel playlists.
These collections of tunes help define the story in my head. While my words are designed to create their own emotional world, the music enhances and solidifies my feelings about the characters and their adventures and ordeals. And then, when the book is done, the music helps me relive their stories.
It's self-indulgent, maybe, but these playlists are also a tool. They help me see the "movie" in my head. When I was writing "Funnel Vision," I went back again and again to listen to
Freedy Johnston's
"Bad Reputation." It spoke to a melancholy streak in Jack's character, and to the bad reputation he's earned, from which he may be redeemed. There's so much strangled emotion in that song, it never fails to move me.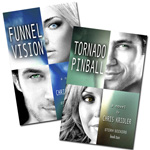 My virtual soundtrack/playlist for the sequel, "Tornado Pinball," runs the gamut from mainstream rockers to classical drama. And it also borrows from movie soundtracks. Songs written for movies push emotional buttons for me.
Sheryl Crow and John Shanks wrote "Real Gone" for the movie "Cars," but Crow's song speaks to the storm-chasing mentality perfectly. "Tailspin" is a great turn by one of my favorite surf bands, Los Straitjackets, and suggests the adrenaline-fueled, airborne follies that take place in the book. And OK Go's "Here It Goes Again" seems to capture the headlong rush of disastrous attraction (though it may be about something else entirely).
Another great spin on a song that was written for a soundtrack is the Ahn Trio's performance of "Heart Asks Pleasure First." Michael Nyman composed this piece for "The Piano," and I love this version. It's a romantic, sensual, exhilarating tour de force that has "love scene" written all over it.
Speaking of romance, Ella Fitzgerald's rendition of "Isn't This a Lovely Day" is the only song on this list directly referenced in the text, and its stormy setting, along with Ella's hot-buttered-rum voice, make it irresistible.
There are multiple instrumentals here; I chose Holst's "Mars, the Bringer of War" from his Planets suite for two reasons: One, it's the perfect building, driving kind of classical piece that elevates an action-filled climax; and two, it's a bit of a play on the idea that the Bubble, the device at the heart of "Tornado Pinball," uses Mars-probe technology for its landing (er, bouncing) system.
For pure, over-the-top rocking out, Shinedown's "Adrenaline" does the job. The lyric "It's the love of the chase" crystallizes this choice for me. I could go on about the other songs, but I'll simply say they capture the novel's characters and emotions when I listen to them. I not only hear the "movie"; I can see it in my head. Maybe you will, too.
Here's my "Tornado Pinball" playlist. I hope you enjoy it.