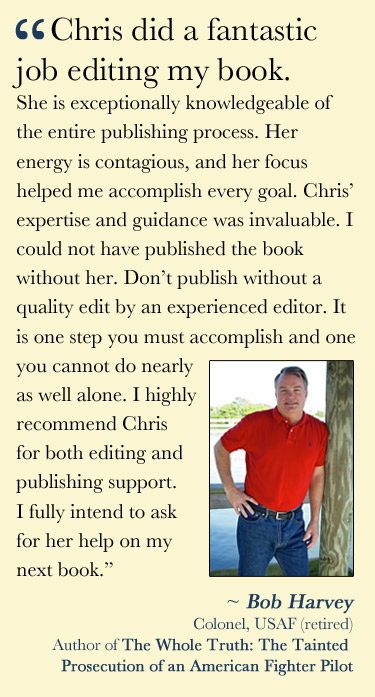 Chris Kridler works one-on-one with authors, offering professional book publication services, available a la carte or more economically as a package. Drawing on university training and journalism experience as a copy editor, as well as more than twenty-five years as a professional writer, editor, photographer, designer and videographer, she can give you the assistance you need to get your manuscript ready to submit to agents and publishers or to self-publish your book. She offers honest critiques that go beyond usage and punctuation and help you achieve the tone, meaning and message you want to convey with your writing and presence as an author.

Contact Chris
Editing
Copy editing: Chris offers copy editing with extras. She edits copy for grammar, spelling and punctuation; notes problems with clarity and consistency; and suggests changes.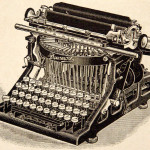 With her copy edit, she will include a written critique of the work (generally five to ten pages) that will give you a sense of its strengths and weaknesses. She charges by word and not per hour so that she can do a thorough edit of your work, preferably in electronic format — Microsoft Word, with edits and notes embedded via Track Changes, so that you can accept or reject them.
RATES: For copy editing, rates are $25 for up to 2000 words; $30 for 3000-3999 words; and $10 per 1000 words thereafter, e.g. $400 for 40,000 to 49,999 words; $500 for 50,000-59,999; $600 for 60,000-69,000 words; and so on. Copy edits of books of high complexity (e.g. nonfiction books with extensive footnotes) may cost more.
FREE SAMPLE: Chris will edit a sample of 750 to 1000 words from your book (three to four pages, double-spaced) for free before both parties commit to a full edit, to ensure you will get what you need from a copy edit.
Proofreading: Proofreading is a lighter form of copy editing. An author may opt for proofreading after edits are considered complete. Fees will be determined based on the sample provided; they will be less than those for a full copy edit.
Developmental editing: Chris will do an overall critique/developmental edit for most novel-length works of 50,000 to 100,000 words for $250, including a detailed summary (approximately ten pages) and additional notes in the text. This service is ideal when you want an early assessment of your completed novel and suggestions on what you need to improve.
Design
Book cover and interior design: Chris will work with you and your art, or purchased stock art, to create an eye-catching cover (front and back), and she will prepare your book's interior to meet industry standards for publication. Interiors priced according to complexity and may be included with editing; covers starting at $95
Publication services
Create paperback and e-books: Chris will take you through the process of publishing your paperback on CreateSpace, Amazon's print-on-demand service, and your e-book on Kindle and other e-book platforms. Priced according to complexity, starting at $50 for e-book conversion


Author photos
In an hourlong portrait session, get professional author photos for use in publicity and on your book. $125 [See sample portraits]
First steps to marketing – photos + press release
Chris will write your initial press release and take professional author photos that will help you launch your book. $165
Book trailers
Promote your work with a professional video book trailer or on-camera interview. Starting at $295 [See more videos]

About Chris Kridler
Chris Kridler trained as a copy editor at the University of North Carolina at Chapel Hill, where she graduated summma cum laude with a double major in journalism and English and a great love for literature and books of all genres. She has more than 20 years' experience in journalism as a copy editor, reporter, page designer, photographer and videographer, and she has published three novels and a cookbook. She also edits, designs and converts books for other authors, helping them through the process of publication. Chris has a critic's eye thanks to experiences in creative writing classes, literature classes and critique groups; in addition, she has written book reviews for multiple newspapers, including several for The Baltimore Sun. Contact Chris